Life of Malik Ambar (The Builder of Aqueduct)
Malik Ambar originally belongs to Abyssinia (Africa). His parents sold him due to poverty as a slave in the market of Baghdad. His master was Abhang Khan and later on, he was sold to Khawaja Kasim and finally became the slave of Mirak Dabir who brought him to Deccan India. Malik Ambarís life took many twists & turns. Though he was in his teens, he was brave, intelligent and a mastermind. His master had an army of one thousand slaves, of which Malik Ambar was a part. He was an ambitious youth man. After his masterís death, Malik Ambar no longer remained as a slave. Malik Ambar rose gradually into an influential position in the Kingdom of Nizam Shahi of Ahmed Nagar & lastly he became whole & sole of the kingdom. He successfully fought several wars against Mughal Kings.
| | |
| --- | --- |
| Tomb of Malik-e-Ambar - Khuldabad | Mazar of Malik-e-Ambar - Khuldabad |
Mailk Ambar's Contribution to India & World
Malik Ambar founded City of Aurangabad
Malik Ambar's last capital was at Daultabad, a well known stronghold of Deccan (India). Daultabad was not sufficient for a place for capital. So he built a beautiful capital named as Fateh Nagar later on called Aurangabad. Number of localities with beautiful buildings, palaces, gardens, roads, water lake and underground aqueduct for drinking water were constructed by him in addition to seven mosques including Jama Masjid, a Portuguese Church, Pandit Khana, Navkhanda Palace and Bhadkal Gate etc. at his new capital.
Mailk Ambar was Pioneer of war Rocket technology first time in the world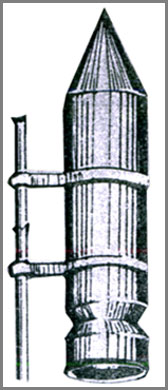 Malik Ambar was a first king in the world who used rockets as a military weapon in the war against Jahangir the Mughal Emperor of India in the year 1612 AD. The Encyclopedia of Americana and Encyclopedia of Britannica (year 1965, Vol. IXX, page 367) gave credit to the Indian King Tipu Sultan for using Rockets first time in the war. There was a war in between Tipu Sultan and Britishers at town Shrirang Patnam in 1799 AD. Britishers were surprised to see entirely new type of military weapon used by Tipu Sultan, where in the British cavalry was totally destroyed due to rockets, and lastly Britishers lost war. Britishers were very curious to know about this new weapon use by Tipu Sultan. They took some rockets and gunners to England and could create there own rockets within three years as equal to the range of Indian rockets. The weight of the Indian rockets were 6 to 12 pounds and range was 1 to 1Ĺ miles. Later on Britishers used their own rockets in the war in Europe and in America successfully. The encyclopedia gave credit to Tipu Sultan for creating new weapon is totally incorrect. According to my Ph.D. research I have proved that Malik Ambar was the first king in the world who used rockets as a war weapon before 180 years then Tipu Sultan in the war with Emperor Jahangir at Aurangabad. Emperor Jahangir used to write autobiography where in he had given details about the rockets of Malik Ambar used in the war at Aurangabad. This autography of Jahangir written in Persian language was translated by famous British historian Alexander Roggers (1909 London, "Tuzuke Jahangiri" Volume I, Page 221) It is very clearly noted that Abdullah Khan the Subedar of Jahangir attacked on Malik Ambar but due to heavy fire of rockets by Malik Ambar. The Mughal army head Abdullah Khan got defeated. One of his nobles Zulfiquar Baig lost his leg due to rocket and he died after two days. The reference of Malik Ambarís rocket also noted in the Aurangabad District Gazetteer also. Moreover historian P.G. Tamaskar in his book on Malik Ambar also described about the defeat of Jahangir due to rockets fired by Malik Ambar. These references made it clear that Malik Ambar was the first king in the world who used rockets as a war weapon against Mughal Emperor Jahangir.
Pioneer of First Column Structure Building in India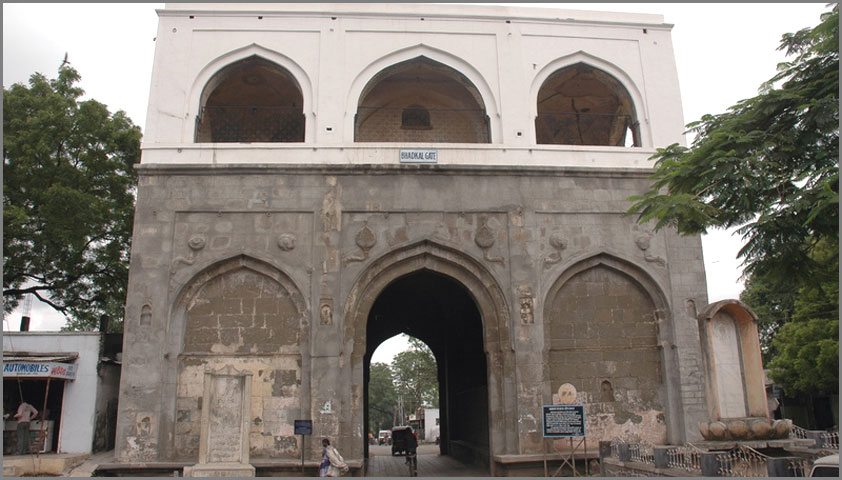 Malik Ambar was very genius, master minded and architect also. After getting victory over Mughal Emperor Jahangir in 1612 AD. he built a massive victory gate at Aurangabad totally based on entirely new technique of ribbed vault system (column structure). He was the first builder who introduce this technique in India. This gate is known as Baharkul Gate (Big Gate) in which eight vertical columns raised having 20 feet distance in every two columns and intersected between each other with beautiful star design at the top. The height of the total gate building measures 59 feet 9 inches. After that the same technique was used in the world famous Gol Gumbad (Round Dome) which was constructed at Bijapur as referred by the world famous architect Persy Brown in his book Islamic Architecture in India. This shows that Malik Ambar was the pioneer of column structure architect in India